If Santa didn't bring you the storage array you had on your Christmas list, don't despair. With our software, and a non-disruptive 15-minute installation, we can have your old storage array working as good as new. Here's how:
Below you can see a capture of Dell Storage Manager for a Dell Compellent SC8000 from one of our customer's environments during a trial of Infinio. This array is serving a variety of applications, most notably Microsoft Dynamics running on MS-SQL. As you can see from the bottom chart, this workload generates approximately 10,000 IOPS on a consistent basis.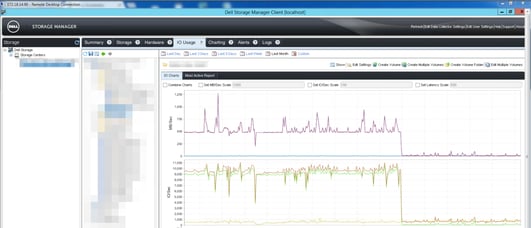 On June 30th, this customer began their trial of Infinio. Almost immediately you can see a precipitous drop in the IOPS, and that's because the Compellent array isn't receiving those I/O requests any more. That's right - 10,000 IOPS that used to be served by the storage array is no longer necessary, because those IOPS are now coming from Infinio's server side cache.
As someone managing IT infrastructure, you may see a few benefits from these results:
For arrays that are overloaded, offloading 10,000 IOPS will get it out of the "red zone" of performance degradation
For arrays that aren't overloaded, offloading like this will create 10,000 IOPS of headroom for growth and new applications
In either case, you can likely defer a planned storage purchase, saving CapEx
With just 8GB of RAM to start (and the option to increase that to 1TB and add up to 12TB of SSD or flash), you can download and install a trial of Infinio and see what we can do. That is, if Santa fell through for you.