We've long had customers in software development reap the benefits of Infinio, seeing shorter build times. For some, improving build times is an important step in their move towards continuous development. For others, it enables multiple builds each day that used to be limited to a single overnight process.
I recently talked with Chris Braun, one of our senior engineering directors who runs DevOps here, about our own deployment of Infinio. Turns out, we're seeing great results (just like our customers), even in some unexpected places.
Our infrastructure is centered around the software development process. We use Jenkins for production build automation and compilation, as well as test automation, Git for version control, and Postgres and MySQL databases for content management. Our engineering team has nearly 50 virtual desktops using Horizon View as development workstations. All told, it's a mix of Linux and Windows systems all running on vSphere 6, backed up with vSphere Data Protector (VDP).
The cluster that Chris and I talked the most about is a 5-host cluster with over 100 VMs, hosted on a NetApp hybrid array. Chris recently installed Infinio's version 3 release on our infrastructure, allocating 28GB of RAM and a 225GB SSD drive on each host.
The first thing he noticed was the storage latency numbers. "We went from 23ms down to 3ms, or even below 1ms for certain workloads."
The aggregate performance on one of our clusters over a work-week. The purple line is the storage latency, and the blue line is the VMs' realized latency with Infinio.
Build times, predictably, went down as well. "If you think about what Jenkins is doing with automation," said Chris, "It's not surprising that our [deduplicated] cache improves the performance. There's so much duplicate data being accessed repeatedly through tests and builds that of course you're going to see it get faster."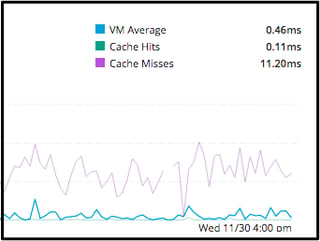 A snippet of performance improvement for
our Jenkins VM. Latency is below 1ms.
What Chris wasn't expecting was a boost to backups. Every night we back our systems up in full at midnight. "We have our backups log to Slack when they start and end. Suddenly I'm seeing jobs that used to take 35 to 40 minutes take just 8 or 9 minutes. That's 5X faster. Not just a 5X improvement in latency, but a business process that is now 5X faster."
Chris says that he was glad to see that some of the typical maintenance activities that our customers perform were as smooth with Infinio as advertised. "I recently added a new ESXi host, and the I/O filter was deployed automatically. I also updated a host to the latest patch of ESX and had no compatibility or stability issues doing that."
Finally, Chris recently added more RAM to each host in the cluster, with the hopes of increasing performance. Adding just 10GB per host increased the cache hits by another 5%. That boost will lead to even more improved build, test, and backup times too.
"It's one thing to run our own software in house to validate its functionality and ease-of-use. But to get real benefits from using it that make things run faster is great. It's nice to see the kind of results our customers see."
To get a copy of the software to try in your own environment,