We are very excited to announce that after a successful beta program, Infinio Accelerator v2.0 is now in general availability. This milestone product announcement comes at a time of a strong market momentum for Infinio, including continued customer success and market adoption, and an accelerated channel recruitment campaign following the recently-launched partner program.
A software-based Infinio Accelerator was created to help organizations scale storage performance to support growing virtualized enterprise applications and desktops, without the traditionally associated expensive upgrades to storage hardware. Continuing our commitment to being the most cost-effective solution to boost storage performance, we've added the following enhancements to v2.0.:
(1) SAN (iSCSI and Fibre Channel) support. Infinio's storage system support has been extended from NFS to include SAN environments such as Fibre Channel and iSCSI. No matter which storage protocol you choose, the Infinio user experience remains the same, including wizard-driven installation, zero operational impact, and instant access to advanced reporting.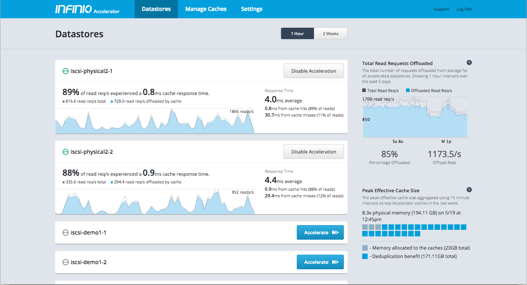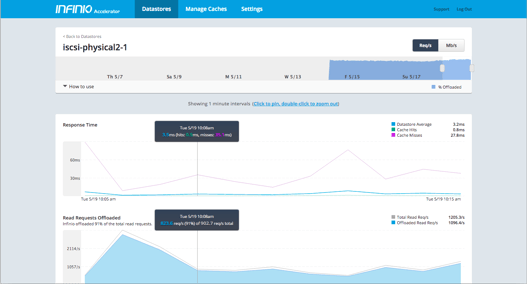 (2) Application-level reporting. Infinio v2.0 adds application-level reporting that starts with a weekly datastore view and enables you to drill down to a minute-by-minute, per-application view. You can easily explore the impact of Infinio on each virtual machine, and evaluate the benefits of cache on critical business applications as well as determine which workloads are responsible for increasing the load on storage, and which workloads are best suited for Infinio caching.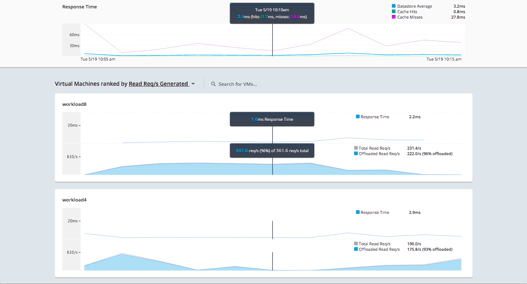 (3) General usability enhancements. Several new features were added to further improve ease-of-use. The UI was redesigned to be simpler to use, advanced datastore graphs were added to provide an additional insight into performance, and acceleration can now be controlled on a more granular level. In addition, integration between vCenter and Infinio was made more resilient, and large enterprise support was enhanced for multiple DNS servers.
To see Infinio v2.0 in action, schedule a live product demo
For more information, check out the Infinio Accelerator datasheet
To request a free, no obligation trial, go here.