One of the benefits of our developing Infinio Accelerator on VMware's VAIO platform is that we can offer support for new versions of vSphere nearly immediately. With the recent introduction of vSphere 6.5, we are proud to announce that we are now listed in VMware's compatibility guide.
This release supports all types of datastores, including VMFS, vSAN, and vVols, on this latest version of vSphere. In fact, we remain the only caching vendor to support all these datastore types on any version of vSphere.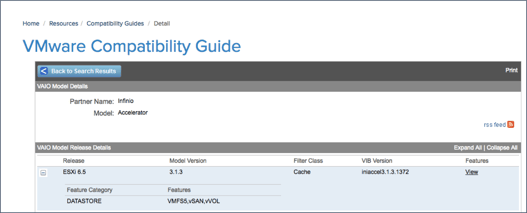 Whether you are an early adopter upgrading to vSphere 6.5 in production, or you have it running in your lab prior to a production deployment, you can take advantage of Infinio's storage acceleration.
Infinio can give you more IOPS and microsecond response time, and can speed up reporting, backups, software compilation, or any other batch process. Why not: