The Infinio team is incredibly excited to be just over two weeks away from another year at VMworld! We want to make sure you know who will be there and where to find them.
The Who
The team has grown significantly in the last year. This is the first VMworld where Scott Davis will be in Infinio blue instead of his VMware polos. It's also the first year with a Technical Marketing team of Sheryl Koenigsberg and me. Add us on top of the other new hires, along with core leadership from Co-founder and CEO Arun Agarwal, Founder and Chief Scientist Vishal Mishra, VPs Peter Smith, Alan DiPietro, and Carrie Reber, and you shouldn't have a hard time finding us.
All of those you can find on Twitter are marked below. You can follow the unofficial list of us here.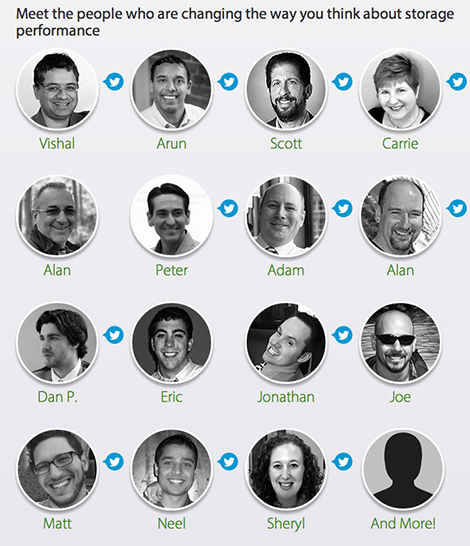 The Where
Visit us in booth 623! We've upped our booth to 20' by 20', but you can find us long before the Expo opens.
Infinio is a sponsor at the VMunderground Opening Acts taking place Sunday. We're also excited to be a second-year sponsor of the (in)famous VMunderground warm up event that night. Look for us at the party with our light-up Infinio blue ice cubes and get a card that entitles you to a special extra surprise when you come by our booth with the card. Don't forget the card!
Once the show floor opens, you will want to come by the booth. We have a fantastic giveaway that any nerd — including me — would love to bring home.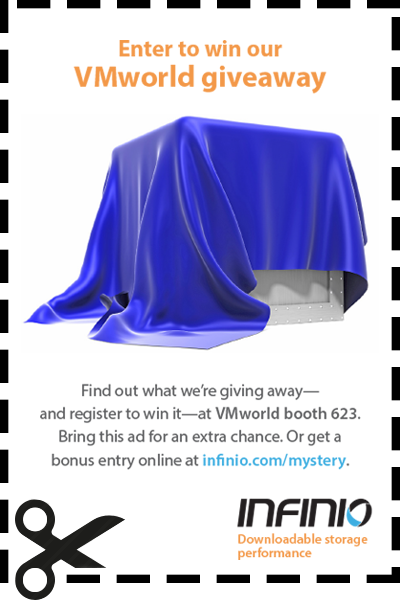 While you're there, let's talk technology. We have a whole list of great options for learning how our software fits in your infrastructure:
Three live demo environments at booth 623
Executive 1:1s in our meeting room
Speaking at vBrownbag at 1pm on Monday
Speaking at Tech Field Day 2:30pm on Wednesday
We're also proud sponsors of the vBrownbags and Tech Field Day, which will include deep discussions about storage and software architecture.
See You There
Last year we were honored as a Finalist in the Best New Technology category of the Best of VMworld awards. This year we've entered in the Desktop Virtualization and End-User Computing category, as VDI is a great use case for the product. Come by our booth and see why!
Will you be at VMworld and want to schedule an executive briefing or exclusive demo? Please send a note to your Infinio sales rep or to Carrie to line one up.
____
Matt is a Technical Marketing Engineer at Infinio