Budd Van Lines uses a fully virtualized data center to manage operations for its shipping and logistics business. The company, which specializes in executive relocations, supports its office employees and field staff using VMware vSphere for a mixed enterprise workload as well as XenApp/XenDesktop VMs for VDI.
When workers complained about slow and unpredicatble response, Budd Van Lines deployed Infinio to improve the VDI user experience.

"Users really complained when performance was unpredictable," said Budd Van Lines Vice President and CIO Doug Soltesz. "They didn't know whether to expect decent response times or long, painful response times."
The cause of the issue was periodic I/O events, such as boot and login storms and write-cache buffer clearing, which stressed the storage and often overwhelmed the hybrid storage array. This lead to delayed read times which greatly affect the user experience.
Budd Van Lines installed Infinio's server-side caching to offload reads from storage, and free up IOPS on the array. The result was a better user experience from improved response times in the VDI sessions.
The following screen shot is from the Infinio dashboard in Budd Van Line's VDI environment. You can see that when I/O spikes occured (gray line) Infinio eliminated them (blue line), making sure the user never noticed the extra demand on the array.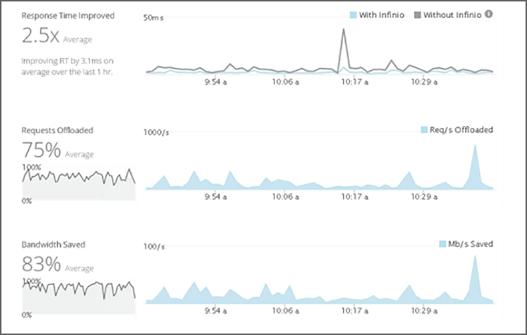 Read the full case study to learn more about how Budd Van Lines uses Infinio to keep their VDI running smoothly.