A few months ago, we announced the general availability of the 3rd generation of our award-winning Infinio Accelerator. We told you about our certification as "VMware Ready", VMware's highest level of endorsement for development partners.
Today, we are thrilled to be the first VAIO partner to be listed in VMware's compatibility guide for VSAN and VVols.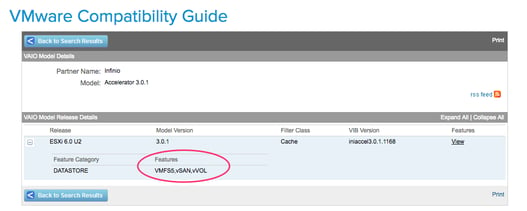 This means that if you are a VSAN customer, or a customer using VVols, you now have access to all of Infinio's performance benefits without sacrificing your direct support from VMware. With our listing in the compatibility guide, we have solidified for VSAN and VVols customers the only caching solution that comes with a signed VIB and VMware support statement.
In short, this makes us best-suited to offer high-performance storage I/O (imagine response time in the microseconds!) for VMware's next-generation storage technologies.
If you are in this type of environment and want to boost your environment with:
1,000,000 IOPS/host
80 microsecond latency
15-minute non-disruptive installation
30-day free trial
then it's time to look at Infinio.