We're excited to announce version 2.0 of our Infinio Accelerator product! The Tech Field Day delegates took launch by storm and now it's our turn to dig in further.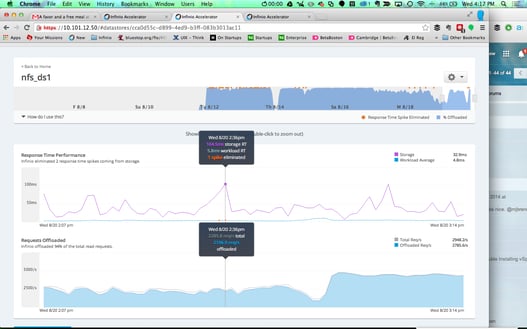 2.0 is chock-full of new features and capabilities, all of them designed to continue what we've been doing since we debuted at last year's VMworld: help VMware administrators improve storage performance. Enhancements fall into four general areas:
Since we launched

last year at VMworld

, the top request we've heard from customers and prospects has been to extend platform support to

include SAN & Unified Storage

– so we did! Starting with version 2.0 of the product, you can use us with NAS, SAN, and Unified Storage, including Fibre Channel, iSCSI, and FCoE.

This includes local and DAS storage as well.

Adding SAN and Unified Storage support isn't going to break any of the things you've come to know and love about us – we still offer a simple, non-disruptive installation, operational transparency for your storage, and great visibility into your performance.
We're really excited to add application-level reporting to version 2.0. We've always provide a datastore view of performance, and now if you see something you want to more detail on, you can drill down to a minute-by-minute per-application view. This lets you explore the impact of Infinio on each virtual machine, and to determine which workloads are most responsible for increasing the load on storage.
My favorite new feature is Cache Advisor for smart sizing of memory. I'll let you in on a little secret – I got to name this feature! This is designed to help you figure out how much memory to dedicate to the distributed cache. Cache Advisor looks at a period of time that you choose and calculates what performance would have been like if your cache had been larger. The result? Help in deciding how much memory you dedicate to Infinio.
Nearly 1/3 of our customers are using the product to accelerate VDI workloads. For example, Budd Van Lines and Minara are two examples of customers whose virtual desktop users were really unhappy – until Infinio.
With 2.0 we're continuing our commitment to virtual desktops as a key use case our customers have identified. We're tuning the cache with heuristics and algorithms to better support VDI workloads. This version of the product will provide an even better experience to virtual desktop users.
So there you have it. Interested in being notified when the Beta is available? Sign up here.