At Infinio we love talking to our customers. Everybody gets in on it, from our CEO to our UI designer. And yes, yours truly. Talking with our customers is one of my favorite parts of the job.
Lately our customer conversations have really focused on how Infinio helps make their existing storage systems better. Here are five things we've been hearing repeatedly from customers:
1. Smooth out performance
The first benefit customers usually see is performance "smoothing." That's our non-technical term for Infinio's ability to eliminate peaks and make performance more reliable and consistent. This is really important for your applications, because being able to eliminate peaks prepares applications with good performance before there are problems.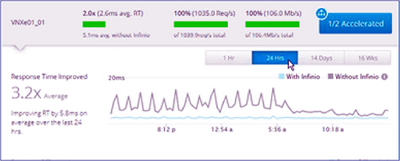 2. Reduce latency
This benefit is probably the most obvious one. Infinio use unallocated memory in your hosts to create a global deduplicated cache. By serving requests from cache rather than from storage, response time is improved, sometimes by up to 10X.
3. Run more workloads
Because Infinio is serving requests from cache, fewer IOPS are being served from your storage system. So let's say you've sized your back-end storage for all your workloads, then Infinio offloads 50% of your reads. You've now freed up your storage to support more workloads. Whether those are VDI desktops, enterprise applications, or other programs you need, you can run more of them on the same storage.
4. Keep storage longer
There are good reasons to buy more storage: Your support contract may be at the end of its 3-, 5-, or 7-year life. Or you might want new features that you can only get in a new array. But we often find that our customers buy a new array because they need more performance. Either they need more shelves of drives, and that's only a configuration supported by a bigger model, or they want an array with more cache and a stronger processor.
Customers can delay this upgrade to a new array by having Infinio offload storage requests form an aging array.
Check out this customer whose workload was being bottlenecked by his array's CPU until they started using Infinio. (They turned it off temporarily to grab this screenshot.)
5. Invest in more technologies
For many customers, Infinio can be the difference between coming in under budget and needing to go to their boss for more money. For VDI, Infinio can be the key to making the economics work. But for other customers, deploying Infinio frees up budget for other strategic purchases. In fact, you can read about how Attivio was able to buy more storage by using Infinio — but the kind of storage that is crucial to their business, not just the kind they would have been forced to buy for performance.
_____
Sheryl is Director of Product Marketing at Infinio