We are deep into what we call VMUG season here at Infinio! With 10 VMware Users Group conferences under our belts since January, we wanted to share the top 10 questions we get the most at these shows.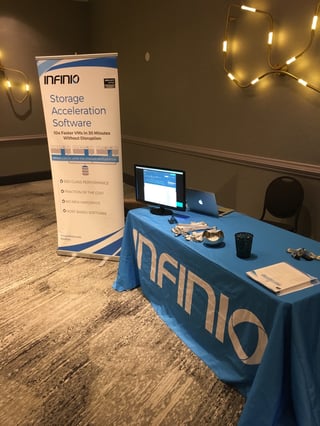 1. You guys have a flash storage system, right?
Nope. We have a software VIB that you install on your ESX hosts to deliver high performance I/O - up to 1M IOPS/host and 0.08ms (80 μs) response time. You can use it with any storage system.
2. Isn't it risky to use a cache?
Not Infinio's cache. We don't store any unique data in cache, so even if something happens to the server, no data is lost.
3. How much memory do I need?
It varies greatly by workload. You can start with as little as 8GB. Most customers settle on 32GB-64GB per host, and some customers also expland the cache size with flash storage.
4. I just bought an All-Flash array, why do I need Infinio?
Infinio can provide 20X the performance of an All-Flash array, because the data is not going over the network, and because RAM is 10X faster than flash. Even if you aren't seeing latency, you can bring BI reporting times, backup times, and other batch processes from hours to minutes.
5. I have a write-heavy workload, what can you do for that?
Though we don't defer writes, we offload so many reads from storage that write performance (both IOPS and latency) improve significantly.
6. Do I need to reconfigure my storage to use Infinio?
Nope. All your storage configuration stays the same, and all your snapshots, replication, and other array-based tools continue to work the same way.
7. What if I use vMotion?
You can continue to use all of vSphere's features, such as vMotion, DRS, and HA without interruption.
8. Can I try it?
Yes! Our trial software is fully-featured, enabling you to accelerate unlimited VMs on unlimited hosts, stored on as much storage as you want, using as much RAM and flash for cache as you'd like.
9. Do you have a license for VDI?
We have one VIB, whether you're accelerating desktop or server workloads. Infinio is licensed only be the socket count of the ESX hosts.
10. Those phone chargers are handy. Can I have one?
Absolutely!
We hope to see you at a local event in your city, or at the Virtual VMUG on June 8th.