After thousands of downloads of Infinio Accelerator, we've learned a few things about how to have a successful e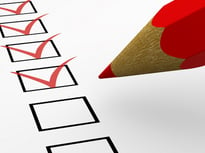 valuation. And by successful, we mean one that doesn't waste anyone's time. I talked to some of the Infinio team members who have helped our customers have the most successful evaluations. Here's what they had to say.
Don't start with the evaluation
The first rule of evaluation club – don't start with the evaluation. Learn about the software first. Says Mark McNamara, our Director of Sales, "A proof of concept that begins with "let's just see what it can do" is likely to stall because either the team will have difficulty tying the outcome to real business value or they will lack the appropriate measurements to create a compelling recommendation worthy of budget expense."
Have well-defined success criteria
Our Director of Cache Engineering Tom Linnell says, "Know what problem you are trying to solve. Marketing literature can be full of claims regarding their product being faster, cheaper, better that the competition. However, evaluating multiple factors at the same time can be notoriously difficult. To make your evaluation a success, pick one thing to focus on and design your evaluation to highlight that aspect and measure the difference that the product provides."
Know your benchmarks
Our lead product manager Dan Perkins enjoys customers who know their stuff, "The process is a thrill for us when working with prospects that have a particularly strong benchmarking background. These users really know how to put our software through its paces, and it takes no effort on our part to convince them that certain testing methodologies are better than others. In a way, we get to sit back, watch a user experience the software we have built, and the performance sells itself."
Understand the impact to the environment
SE manager George Pradel tells me it's important to know how disruptive the evaluation might be to the environment, "Keep in mind that our software has zero disruption, no maintenance mode, no host reboots to install or uninstall. What does that mean to you? A no risk trial for 30 days to see how we can help you, what other products let you do that?"
See a demo of Infinio, to determine if it's a good fit for you.
Or, you can just: