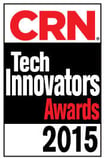 We are honored to announce that Infinio has been named one of the IT industry's leading tech innovators by CRN®. Our flagship product, Infinio Accelerator, took top honors in the storage category of the 2015 CRN Tech Innovator Awards, which recognize pioneering companies have brought to market new hardware, software or services that have significantly impacted the industry.
While amassing the Tech Innovator list, a panel of CRN editors evaluated 200 products across 19 categories. Determining factors included technical advances, unique features and ability to empower solution providers to solve end-user challenges.
Here at Infinio, we've designed a non-disruptive, highly flexible and cost-effective solution that eliminates wasteful storage spending and preserves existing storage investment. Our software-only product enables SSD-class performance and reduced latency with no additional hardware by leveraging existing resources within hosts.
Infinio inserts a distributed caching layer based exclusively in RAM on the server side, closer to your applications, which lets you accelerate their storage systems without impacting production environments. You can completely install Infinio in 30 minutes without reboots, downtime or changes to your existing environment.
Sound good? How about a free trial?
The Infinio team is very proud to have made the 2015 CRN Tech Innovators list.