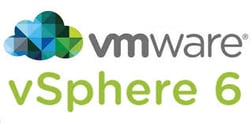 Infinio Accelerator now supports VMware's vSphere 6.0. Released earlier this year, vSphere 6.0 is the industry-leading virtualization platform which empowers users to virtualize any application, simplifying the virtual data center. It enables a highly available, resilient, on-demand infrastructure that is the ideal foundation for any cloud environment.
Infinio Accelerator delivers all-flash storage performance to next generation hybrid clouds built on vSphere 6.0. Infinio's software-only approach to storage acceleration increases IOPS capacity and improves application performance in the software-defined data center in a highly non-disruptive, cost efficient way.
With this added support, Infinio functions seamlessly within the vSphere 5.x up to the current 6.0 environment.