We know that the best information about Infinio comes from the source - from Infinio customers. So when we noticed that increasingly more customers had all been using Infinio the same way, we started to pay attention.
We already knew that customers were using Infinio to improve general performance for databases like SQL and Oracle. Offloading 65%-85% of storage I/O from storage arrays and serving it directly from servers reduces latency and makes databases response time faster. Users are less frustrated, which is sometimes the best thing an IT professional can hear!
But we started to notice that they were also seeing significant reductions in how long reporting operations took - and by significant, we mean hours of time saved. Infrastructure is often sized for the transactional activities of databases - storing and retrieving records.
But the operations that can be the most important to business units is often the reporting - things like which customers fit a certain profile, what kinds of transactions were executed today, how many items are left in inventory. And these can take a long time on insufficiently-powered storage systems.
Two recent examples of this:
MIBS, a subsidiary of Mitsubishi, found that end-of-day report generation often caused latency spikes that slowed down all their business operations.
Similarly, a Canadian city government was struggling with reporting times that were topping 20 hours each week.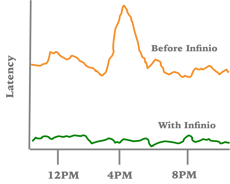 In both cases, Infinio's server-side cache reduced reporting time significantly, letting each organization focus on supporting their strategic goals more fully.
Could you do the same?

or,